Verbatim transcription is more than listening and typing out words. It means transcribing every word of an audio recording in the exact way spoken. Paying great care and attention during the process of verbatim transcription is important. Not only are the words essential, but verbal cues and false starts are too. This method results in the most accurate transcript possible. 
All these extra details can offer a deeper insight into a person's mindset. Verbatim transcription helps us to understand speech behaviors, not only the words used.
But how do you know what transcription service to use? When do you need an exact record of a statement, and when do you need a general transcription? It is an important distinction to learn when looking for a transcription service.
What Is Verbatim Transcription? 
Verbatim transcription is the process of transcribing audio in the exact way spoken. Speech patterns, pauses and stutters stay in the final transcript to produce a precise record of the source audio.
A verbatim transcript is comprehensive. It stays true to the original audio file, down to the last detail. Verbatim transcripts will even include coughs, sneezes and background noises.
Verbatim transcription services provide a more comprehensive understanding of an issue. This can be particularly useful in legal cases and court statements.
Verbatim Transcription Rules
Verbatim transcription adheres to four general rules:
Do not paraphrase; capture every last word
Note all non-verbal communications
Log all external sounds and background noises
Record all fillers and false starts
A legal document is not a verbatim transcript without following these rules.
When to Use Verbatim Transcription Services
Verbatim transcription services can add value in the following areas:
Research Studies
Transcription services can be used in research to understand an individual's demeanor better. Researchers can analyze non-speech sounds in a  verbatim transcript for deeper insights.
Legal Statements and Documentation
In the legal profession, every detail is life-changing. Verbatim transcription can help with legal matters when analyzing testimonies and other court documentation.
Quoting a Specific Source
Logging exact words is essential when quoting somebody as a source. A verbatim transcript notes precisely what it was that a person said. Quoting someone in this way avoids miscommunications and contextual difficulties arising from a source. 
Healthcare Services
Verbatim transcription has proven beneficial to the healthcare industry. Verbal recordings give medical experts an insight into a patient's wellbeing.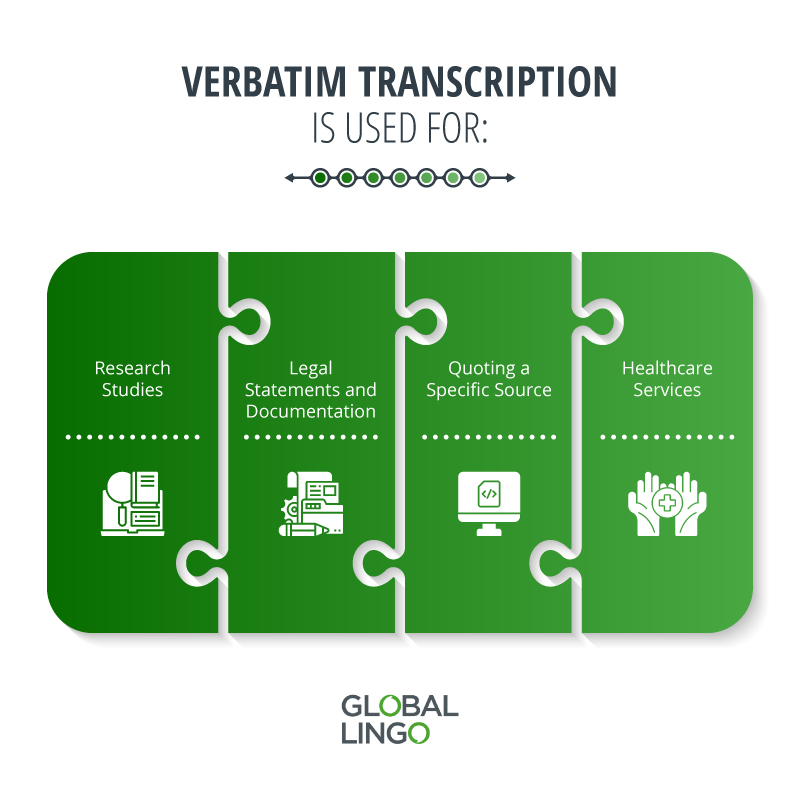 Intelligent Verbatim Transcription
Verbatim transcription services can also incorporate edited and paraphrased statements if needed. This is the process of intelligent verbatim transcription.
Intelligent verbatim transcripts note only what's necessary on an audio recording. Unlike verbatim transcripts, they can also omit fillers, background noise and false starts.  
Other Examples of Non-Verbatim Transcription 
Sometimes a transcript will only need to provide the gist of a recording. While focused, these transcripts do not include unnecessary information and external noises. This is non-verbatim transcription.
Detailed Notes Transcription
Notes transcription ensures that all information is comprehensive, on point and relevant. Detailed notes transcription removes irrelevant conversation tangents. The idea of this service is to focus on fast, concise transcription.
A detailed notes transcript maintains all-important content without unnecessary tangents. They are ideal for businesses that need the key facts only. They can take  the form of meeting summaries, interviews and focus groups.
Summary Services
A business using a summary service is usually taking the first steps in a bigger situation. They will most likely need many transcriptions in the future.
With summary services, enlisting a reputable language services company is essential. This ensures that your time is not wasted. Set yourself up for success by using a professional with a good understanding of the information they are summarising. 
We hope you now have the information to find the best transcription service for your needs. 
Non-verbatim transcription is ideal for cost-effective and succinct delivery of information. In many industries, one missed detail can mean all the difference. For information-sensitive situations, deal with a reputable industry professional like Global Lingo.
Minute Taking
Global Lingo is the leading provider of high-quality, expert minute taking and transcription services at an international scale. Taking minutes in meetings, whatever the sector, can be a complex process dependent on pre-planning, acute concentration and a masterly writing technique.
Interpreting
Language barriers can be problematic, especially in an international organisation with offices across the globe. For these situations, we can provide different interpreting services – for instance, simultaneous, consecutive and remote interpreting – to overcome this linguistic barrier.